Tips for Petunias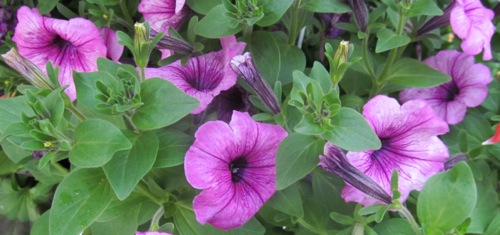 How many varieties of petunias would you like? We have 97! With that kind of variety, you will be sure to find some to fit your fantasy!
Why plant petunias? Because they are beautiful and bloom from planting to frost! They tolerate hot weather and drought well.
This widely popular flower is a native of South America. Surprisingly, it is a close relative of tobacco, tomatoes, and potatoes. Petunias derive their name from the French word for tobacco "petun." Petunias are insect pollinated, with the exception of one species that is pollinated by hummingbirds.
Your petunias will grow best if you:

Plant in full sun. Petunias need at least 6 hours of sun a day, but the more sun the better.
Plant in well-drained soil. Petunias are not picky flowers, but will do best if their soil drains well. If planting in clay soil, petunias will do best if you increase the soil's drainage by adding peat moss, compost or manure to your soil.
Water wave and other spreading petunias frequently. Mounding varieties may be able to go a week without watering except in very hot water. Be sure to water well when watering. Soaking the ground to a depth of 6 – 8 inches. Baskets and containers may need to watered daily.
Petunias can be fertilized every one to three weeks for maximum blooming. Once again, spreading varieties will need more than their mounding neighbors. Use a balance fertilizer such as 8-8-8 or 12-12-12.
Plant after danger of frost is past. The more sunlight a location receives, the farther apart you can plant your petunias. If planting in less than full sun, place the plants slightly closer together than recommended on plant stick.
Be sure to deadhead plants frequently. This will ensure constant blooming. Wave and Supertunia petunias do not require deadheading.
If you pinch back the branches of your petunias once or twice during the summer, the plants will be bushier and fill in better. It will help your plants not be straggly.
Add to your list