Asparagus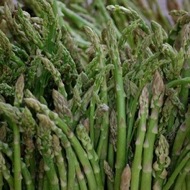 Asparagus is a hardy perennial vegetable native to the Mediterranean. Asparagus should be planted in early spring. Dig a trench six inches deep. Place the asparagus roots nine to twelve inches apart. Cover the crown with two inches of soil. Though it is some extra work to plant asparagus, the bed will generally last from 15 – 30 years.
Asparagus should not be harvested until three years after it is planted. Even then you should only harvest it for one month. Beginning in the fourth year, feel free to harvest as long as possible.
To harvest asparagus, cut spears when they reach five to eight inches in height. Cut the spears at a 45° angle. If left to grow too tall before harvesting, the spears will be woody.

Add to your list