Hostas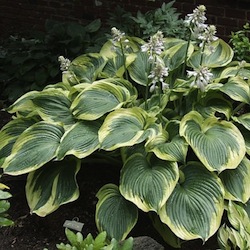 The hosta is native to northeast Asia. This perennial plant is now well-known by its scientific name; it was named after Austrian botanist Nicholas Thomas Host. Former less-used names have included: Corfu Lily, Day Lily, Plantain Lily and the surprising Giboshi and Funkia.
Hostas vary widely in size. Their leaves ranging from 1" x .75" to 18" x 12". The sizes of clumps enjoy an even broader range from 4" across and 3" high to 6' across and 4' high. Flowers are generally white or purple and also vary in size.
Hostas are widely used as a shade ground-cover plant. They are edible and are commonly consumed in Japan. They are also a favorite food for deer, snails and slugs. Overall they are a low maintenance perennial plant.
Hostas are divided into the following categories by height. Actually sizes may vary slightly due to soil conditions and moisture. All of the hostas we carry are hardy in zones 3 – 9.
Mini – less than 6 inches
Very Small – 6 to 10 inches
Small – 10 to 15 inches
Medium – 15 to 22 inches
Large – greater than 22 inches

Add to your list