Perennials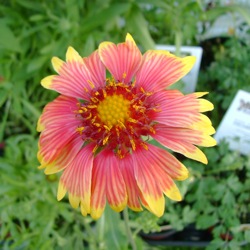 Clearly defined a perennial is a plant that takes three or more years to germinate, grow, flower and die. Though many people think of perennials as hardy, the difference between an annual and perennial is found in their life cycle.
Perennials can be divided into hardy perennials and tender perennials. Hardy perennials are plants that survive the winter. Here in South Dakota, we would consider anything Zone 4 or lower a hardy perennial. Perennials hardy in Zone 5 and higher would be considered half hardy perennials. Anything Zone 6 or higher, could be considered a tender perennial. Tender perennials are grown as annuals in SD. To make it easier for our customers to browse our site, we have placed tender perennials among our annual varieties. You will find their life cycle listed as annuals. However, if you look at their Hardiness Degree, it will be below 32˚F.
There are a variety of reasons to plant perennials. Once established, they are easy-to-care-for and low cost. There are a wide variety of unusual perennials that can add an exotic touch to your garden.
Perennials vary in the length of their blooming season. Some perennials, such as gaillardia, heliopsis and veronica, bloom from spring to fall. Others, such as ajuga, houttuynia and stachys, have shorter blooming seasons scattered throughout the growing season. Most people choose to plant a variety of perennials, so their flower bed is always in bloom.
We have over 275 varieties of perennials from about 85 species. They vary in care from the easy-to-care-for hosta and daylily to the harder-to-establish garden phlox or bleeding heart.
Browse our site to choose your favorite varieties from the cool of your home. You will notice plants are divided by their need for light. Plants are filed under the category that best suits their optimal growth and blooming. Under exposure in the plant details, you will see other places that the plant can be planted. Therefore campanulas are filed under full sun, but most varieties can handle part shade. Hostas do best in full shade, but some varieties can handle some direct sunlight.

Add to your list