Petunias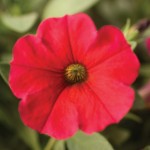 The widely popular petunia is a native of South America. A close relative of tobacco, tomatoes, and potatoes, the petunia derives its name from the French word for tobacco "petun." Petunias are insect pollinated, with the exception of one species that is pollinated by hummingbirds.
Because of their toleration of harsh conditions, petunias are a go-to plant for nearly any gardener. Depending on the variety, the dead blooms should be plucked off petunias for maximum blooming potential. A sun plant, they need more than six hours of sunlight a day.
The Ymker Greenhouse carries a variety of petunias, including the popular Supertunia, Easy Wave, Double Wave, Double Cascade, and Dreams series.
Varieties of Petunias

Add to your list