Marigolds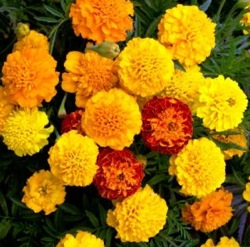 Marigold is the common name for the genus tagetes. Tagetes, a member of the sunflower family, is native to North and South America. Species range from .5 inch to 6.5 feet tall. Most often they are planted as annuals, though there are some perennial varieties.
Throughout the world, marigolds have various uses. They are used to deter certain bugs in gardening, so are sometimes planted with tomatoes, eggplants, chili peppers and potatoes. They should not be planted near peas or beans.
Some marigolds also produce oil found in perfumes. Other species are used in herb teas. European Union countries use it as food coloring. In parts of South America, a specie is used to flavor pasta and potatoes. The flavor reminiscent of a blend of sweet basil, tarragon, mint and citrus.
Marigolds are low maintenance plants. They can tolerate almost every kind of soil, provided it is drained. They prefer full sun. They should be deadheaded for continuous blooming.

Add to your list