Gypsophila – Gypsy Deep Rose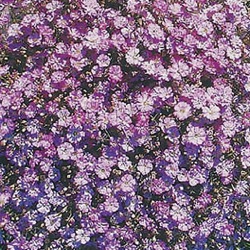 Scientific Name : Gypsophila
Common Name : Baby's Breath
Life Cycle : Annual
Hardiness : 32°F
Blooming Season : N/A
Plant Habit : Trailing
Spacing : 10" – 12"
Height : 10" – 12"
Spread : 10" – 12"
Exposure : Full Sun
Uses : Beds, Ground Cover, Containers
Gypsophila is native to Europe, Asia and northern Africa. Due to the type of soil it prefers, its Latin name means "lover of chalk". It is better known in the United States as Baby's Breath.
Baby's Breath has about 100 species, ranging from annuals to perennials and from two inches to four feet high. They are a lover of sunlight and bloom in pretty white and pale pink shades.
This particular variety of Baby's Breath grows up to ten inches high and spreads up to fourteen inches. They have prefer full sun and will thrive in a flower bed or in a container. They are extremely low maintenance flowers.
Add to your list