Geraniums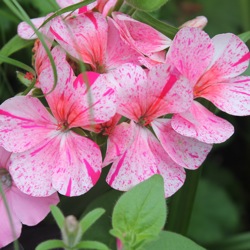 The geranium is native to southern Africa, southern Australia, southern Madagascar, northern New Zealand, eastern Africa, Asia Minor, St. Helena and Tristan da Cunha. The botanical name for the geranium is pelargonium. The botanical name "geranium" is actually an entirely different plant known commonly as the cranesbill. Most geraniums grown in gardens are actually pelargoniums, not geraniums.
There are several species of geraniums, including regals, zonals and ivy. There are several species of scented geraniums with a range of smell from almond to coconut to Old Spice to Rose. Rose scented geraniums are commonly used as a supplement or substitute for expensive rose oils. Scented geraniums are often used in perfumes.
Geraniums can be used to deter various insects. The Japanese beetle becomes paralyzed when eating zonal geraniums. The Orange Fizz geranium deters mosquitoes.
Geraniums are a low maintenance sun or part shade plant. They are often used in baskets and containers. Geraniums should be deadheaded after blooms die for maximum blooming. They have a wide variety of colors, including red, white, orange, yellow, deep purple and bi-color.

Add to your list