Celosia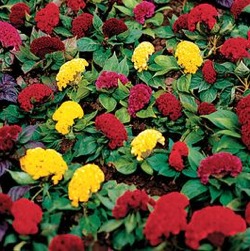 Celosia is a small species of flowers native to Africa. Their name is derived from Greek, meaning "burned." It derived this name from the shape of its flower heads.
Celosia has a variety of uses. As medicine, various plant parts can be used as a treatment for worms, blood diseases, mouth sores, eye problems, chest pains, diarrhea and dressings for boils and sores. Certain species are eaten as a vegetable in Africa and India.
Celosia is also cultivated as an ornamental plant. Celosia enjoys full sun and well-drained soil. Its unique blooms work well as cut or dried flowers.

Add to your list