Calibrachoa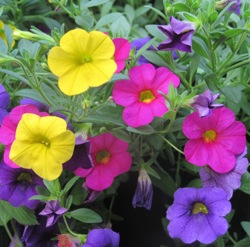 Calibrachoa is a genus of plants native to central South America. The genus is named after Antonio de la Cal y Bracho, a Mexican botanist and pharmacologist.
Calibrachoas are close relatives to petunias, but tend to be smaller. They are tender perennials and are cultivated as annuals in most regions of the United States.
How can I make my calibrachoa look like your pictures? Calibrachoas are heavy feeders. Moisture management is essential. Soil should dry down to the feel of "damp laundry" prior to another watering. Promotes healthy roots and foliage.

Add to your list