Alyssum (Sweet Alyssum)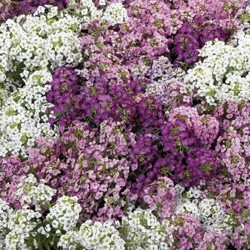 The Sweet Alyssum is a native of the Mediterranean region and is also present in Macaronesia. Though it was originally classified in the alyssum family, its scientific name is Lobularia maritima. After the reclassification as "lobularia", the "sweet alyssum" retained its common name.
Often used as ground cover due to its small, dense flowers and short stature, the sweet alyssum is an annual plant. An extremely low maintenance plant, it requires at least four to six hours of direct sunlight a day.
Most varieties of alyssum are white, with a fairly large number of horticultural varieties that are purple and pink. The darker colored alyssums prefer more shade or a cooler area of the garden than their white counterparts.

Add to your list