Coleus – Part Shade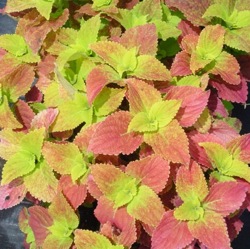 Solenostemon is a genus of plants native to tropical Africa, Asia, Australia, the East Indies, Malay Archipelago and the Philippines. The species grown in gardens are often native to Asia. Solenostemon is commonly known as Coleus.
There is one species of coleus that has been used for its mild relaxing and hallucinogenic affects by the Mazatec Indians. However, most coleus are used only for ornamental purposes.
Coleus is a great choice to add interesting foliage to your flower bed. Coleus varieties vary in their need for sun or shade. Check out the sun and shade varieties under their respective page categories.

Add to your list