Violas (Violets and Pansies)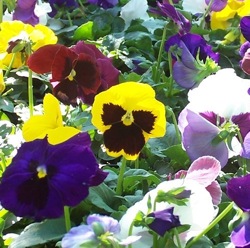 The viola is a genus of plants in the violet family. There are over 400 – 500 species around the world, including Hawaii, South America, Australasia and the Northern Hemisphere. Most are perennial plants, but some violas are annuals and some are shrubs. Pansies are a member of the viola genus.
Violas are common garden plants. Including pansies, they are one of the top sellers nationwide. Some species are used in perfume. Some violas are used in culinary art as decoration on desserts, salads or plates. Some are used in herb tea; some are eaten after they are candied; and in Toulouse, France, some syrup is made from violets.

Add to your list