Proven Winners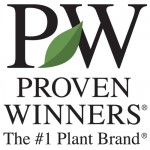 The Ymker Greenhouse carries a wide selection of Proven Winner varieties. Download a complete list.
What is special about the Proven Winner brand? In their own words, their goals are "to introduce the best, most unique, high performing plants, to produce them under the highest quality standards, and to market the plants innovatively. Proven Winners plants are unsurpassed in terms of flowering, growth habit, disease resistance, and garden performance."
Proven Winners was founded in 1992 by Euro American, Four Star Greenhouse and Pleasant View Gardens. They also own the brand Proven Selections.
Each plant goes through a two or three year selection process. They test the plants throughout the United States and Canada, and also in Europe, South Africa and Japan.
Proven Winner is credited with starting the container gardening craze. They are the only brand in the industry that offers a certification program to garden centers.
Add to your list