April 2013
Is spring coming? It seems like our warmer spring temperatures are being delayed this year. The yard is still full of Common Redpolls and a few Goldfinches. The Juncos are still around and the Robins are enjoying their own personal hot tubs.
In the next couple weeks more of our summer residents will be arriving, and many of the migrating birds will be passing through. My yard is anxiously awaiting the purple martins and the orioles. Latest data showed that the Purple Martins are on the Kansas/Nebraska border.
I would like to take this time to encourage all bird lovers to spend a weekend birding during the South Dakota Birding Festival at Fort Randall. This 3rd annual festival is right around the corner on May 3-5.
The event begins Friday evening in Pickstown at the Rainbow Room. Dr. Dave Swanson of USD will be presenting "Listening to Birds" followed by the "Owl Prowl" trek at the Karl Mundt National Wildlife Refuge.
Saturday morning begins bright and early at 6:30 at the Lake Andes National Wildlife Refuge with Dr. Swanson banding of birds followed by field trips at the refuge and around the area. At 4 pm there will be vendor booths and children orientated activities at the Wagner Armory along with a presentation "Tech Devices and Birding" by Roger Deitrich.
A banquet will be held at 5:30 and a presentation on Least Terns and Piping Plovers to follow. At 7:30 pm the feature presentation is by the Black Hills Raptor Center. They recently presented at the school in Armour and do a wonderful job. This is a must see.
Sunday morning begins again at 6:30 with more banding at the LANWR followed by a field trip led by Mike Bryant at the Karl Mundt National Wildlife Refuge. The pre-registration form can be found at sdgreatlakes.org/greatoutdoors/birdinginfo/. Chirping from experience – this is a great weekend adventure!!!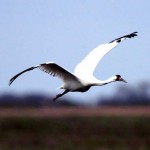 The bird of interest this month is the tallest bird (59.2 inches) in North America. This bird has rebounded from 15 of its species in the 1940's to about 600 today. Its wingspan is 90.2 inches and weighs between 13-17 lbs. They have a long neck and long legs with a white body and red forehead and cheeks along with black wing tips. Have you guessed that it is the Whooping Crane?
The trachea (windpipe) of the Whooping Crane coils about 9 inches into its breast bone while the bird calls, increasing volume and allowing vibration pitch. They are territorial birds in both the summer and winter, living in family groups. Newly paired cranes often locate their first territory near that of their parents. They nest in a mound of vegetation that is placed on ground in a marsh. They have 1-3 eggs that are light brown with variable brown blotches. Chicks are covered with down and are able to swim and walk soon after hatching. They are also ready to feed themselves with in one day.
Whooping Cranes are known for their elaborate dance display during courtships. The cranes breed in freshwater marshes and prairies. They feed on a wide variety of items – mollusks, crustaceans, insects, fish, frogs and waste grain. During migration and winter they use grain fields, shallow lakes and lagoons and saltwater marshes. These birds will be passing through our area soon so keep an ear out for them. They have a distinctive sound as they fly over. The Sandhill Cranes will be flying over too soon but the Whooping Cranes are bigger and have the black wing tips.
Add to your list